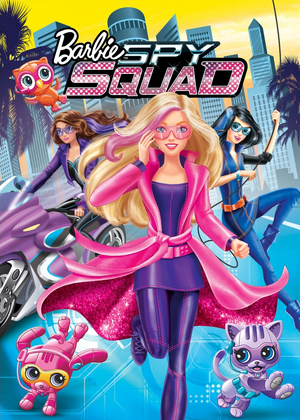 Barbie: Spy Squad
is the 32nd CGI-animated Barbie movie. It was released on DVD, Blu-ray, and digital copy in Spring 2016.
[1]
Details for this movie can be found on
Barbie Movies Wiki
.
Description
"WITH TEAMWORK, ANYTHING IS POSSIBLE!
Barbie and her best friends Teresa and Renee transform from hardworking gymnasts to undercover secret agents in this exciting, action-packed adventure! When their amazing gymnastics skills catch the eye of a top secret spy agency, the girls are soon following clues to a gem-stealing cat burglar who has escaped everyone on the case. With their high-tech gadgets, glam disguises and cute robo-pets, can they prove that smarts and teamwork can get the mission accomplished? It's girl power to the rescue!"[2]
References
Ad blocker interference detected!
Wikia is a free-to-use site that makes money from advertising. We have a modified experience for viewers using ad blockers

Wikia is not accessible if you've made further modifications. Remove the custom ad blocker rule(s) and the page will load as expected.