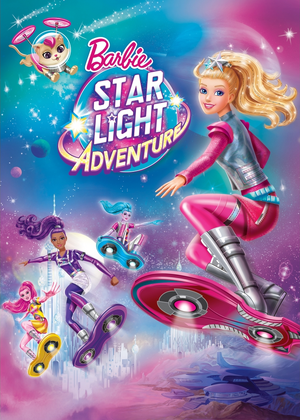 Barbie: Star Light Adventure
is the 33rd CGI-animated Barbie movie. It was released on DVD, Blu-ray, and digital copy in Fall 2016.
[1]
Details for this movie can be found on
Barbie Movies Wiki
.
Description
"JOIN BARBIE ON AN OUT-OF-THIS-WORLD ADVENTURE!
Barbie is a cosmic princess who flies high on her hoverboard through a far-off universe with her adorable and devoted pet sidekick, Pupcorn. One day, everything changes when the twinkling stars start to dim and slow their dance in the sky. Barbie travels to a beautiful new planet to join a special rescue team on a mission to save the stars. Once there, she teams up with a group of talented new friends who work together to save the galaxy through exciting hoverboarding adventures. Barbie soon discovers that if she listens to her heart, and with the help of her friends, she might be the leader the whole universe has been waiting for!"[2]
References
Ad blocker interference detected!
Wikia is a free-to-use site that makes money from advertising. We have a modified experience for viewers using ad blockers

Wikia is not accessible if you've made further modifications. Remove the custom ad blocker rule(s) and the page will load as expected.