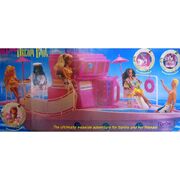 Barbie Dream Boat, The Ultimate Seaside Adventure For Barbie & Her Friends! is a 1994 Mattel production, made in Mexico. Ship with Pool, Rear Bridge & Deck Rails, Table, Deck Chairs, Life Ring, Umbrellas & Posts, Lounge Chair, Dishes, Ice Bucket & Bottle, Tea Set with Cups, Pitcher & Tray, Bridge, Real Working Blender, Child-Size Cups or Ship "Smoke Stacks", Straws, Labels, S-Hook, Cleats, & . Cool Sleep Quarters for Slumber Parties, Gourmet Galley w/Fridge & Dishwasher opens/closes, Fold Out Deck for morning Breakfast or Evening Parties, Outdoor Lounge Chair to lay out by the Pool, a Real Working Blender to make Fruity Drinks![1]
References
Ad blocker interference detected!
Wikia is a free-to-use site that makes money from advertising. We have a modified experience for viewers using ad blockers

Wikia is not accessible if you've made further modifications. Remove the custom ad blocker rule(s) and the page will load as expected.