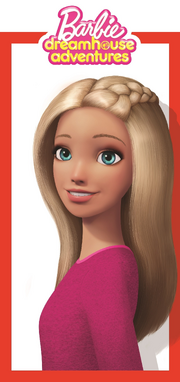 Barbie: Dreamhouse Adventures is a CGI-animated comedy series consisting of 26 episodes that are 22 minutes each. The series is "developed for an older audience of 5 to 11 year olds, with a realistic and modern CGI look and answering requests from fans to learn more about Barbie and her family." It is an episodic show.
Description
"Barbie and her fun-loving sisters, Chelsea, Stacie and Skipper take you on their wild adventures in a new animated comedy series. From their Dreamhouse in Malibu to escapades around the globe, they navigate life's ups and downs with plenty of laughs, musical numbers, and just enough sparkle and fantasy that will have every girl believing that anything is possible."[1]
References
See also
Ad blocker interference detected!
Wikia is a free-to-use site that makes money from advertising. We have a modified experience for viewers using ad blockers

Wikia is not accessible if you've made further modifications. Remove the custom ad blocker rule(s) and the page will load as expected.