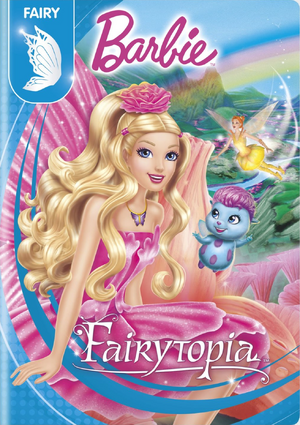 Barbie Fairytopia
is the 5th CGI-animated Barbie movie. It was released on VHS and DVD in Spring 2005. It was later released digitally.
[1]
Details for this movie can be found on
Barbie Movies Wiki
.
Description
"Starring Barbie as Elina! Just through the rainbow, in the world of Fairytopia, lives Elina, a beautiful flower fairy who longs to have wings.
Her home is a large flower in the Magic Meadow where she lives with Bibble, a quirky but loveable puffball.
One day Elina wakes to find that her flower home is sick, and that her fairy friends can't fly! She summons the courage to help and embarks on a fantastic journey to find Azura, a Guardian Fairy she thinks can solve the problem. She meets new people who test her courage and teach her the value of true friendship. But can a wingless fairy save all of Fairytopia?
Join Barbie, as Elina, in her first ever Fairytopia movie and discover a magical land of fairies, flowers and enchanting experiences!"[2]
References
Ad blocker interference detected!
Wikia is a free-to-use site that makes money from advertising. We have a modified experience for viewers using ad blockers

Wikia is not accessible if you've made further modifications. Remove the custom ad blocker rule(s) and the page will load as expected.