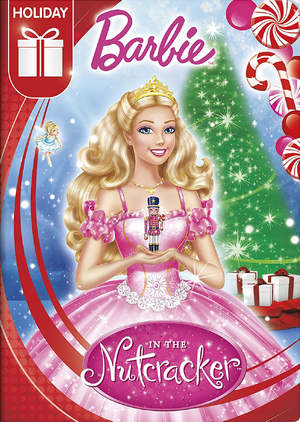 Barbie in the Nutcracker
is the 1st CGI-animated Barbie movie. It was released on VHS and DVD in Fall 2001. It was later released digitally.
[1]
Details for this movie can be found on
Barbie Movies Wiki
.
Description
"The tale begins when Clara (Barbie) receives a beautiful wooden Nutcracker as a gift from her favorite aunt. That night the Nutcracker springs to life to ward off the Mouse King who has invaded Clara's parlor. She wakes and aids the Nutcracker, but the Mouse King shrinks her using an evil spell. Clara and the Nutcracker set off on a fantastic adventure to find the Sugar Plum Princess, the only person with the power to break the enchantment. Barbie in the Nutcracker shows that, if you are kind, clever and brave, anything is possible."[2]
References