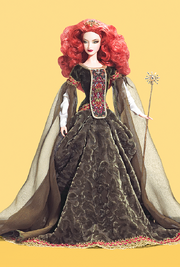 Deirdre of Ulster, a magnificent beauty whose tragic story made her a legendary heroine of Irish folklore. Deirdre was brought up in seclusion by Conchobar, King of Ulster, who planned to marry her when she was of age. Instead, she fell in love with a handsome warrier named Naisi, fleeing with him to Scotland, but the happiness was short-lived: Conchabar had an ill-fated plan in store. Naisi was killed, and Deirdre, who is also sometimes referred to as Deirdre of the Sorrows, later died from grief. This heartbreaking tale of eternal love results here in a beautiful doll with cascading red hair and a Celtic-inspired gown.
Ad blocker interference detected!
Wikia is a free-to-use site that makes money from advertising. We have a modified experience for viewers using ad blockers

Wikia is not accessible if you've made further modifications. Remove the custom ad blocker rule(s) and the page will load as expected.