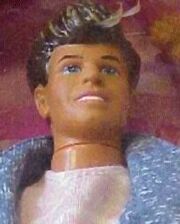 Dude™ will look very familiar to most collectors. He borrows his looks from Derek®, who was only off the market two years since the disappearance of Barbie® and the Rockers, last seen in 1987. Two years later, Derek® is reinvented as Dude™, losing his Hispanic past and history. Unlike Shaun™, the male doll in the Starr line, Dude™ is not described well by Mattel during initial advertising or packaging. His personality is left to be formed by his owner. All one really knows is that Dude™ is Jazzie™ doll's boyfriend. Dude™ doll's only difference from Derek doll's original look is the addition of "frosted" hair streaks. The Ken® body mold and bent arms are the same. When trying to decipher the two apart in loose format, the hair will be the only discernable trait. All of the High School dolls were advertised as having coordinating clothing pieces that could be switched around for different looks. The girls had five different looks, while Dude™ was packaged with only three different articles of clothing. His five different look is renamed "Rad denim looks!" and he is pictured on the box front sans t-shirt with an open jean jacket
Ad blocker interference detected!
Wikia is a free-to-use site that makes money from advertising. We have a modified experience for viewers using ad blockers

Wikia is not accessible if you've made further modifications. Remove the custom ad blocker rule(s) and the page will load as expected.