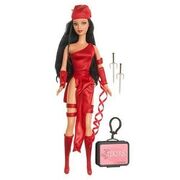 The
Elektra Barbie Doll
is from 2005. It was made in Indonesia. The product number is H1699.
Description
Box
"An Olympic-level athlete, gymnast, and supreme martial artist, Elektra is one of Marvel Comics' most memorable female characters. With her mix of brains, beauty, and powerhouse physical technique, this dazzling character leaps off the comic book pages wearing her sizzling red signature bodysuit, with silky black flowing hair.""[1]
Amazon
"Elektra, the beautiful and mysterious warrior character from Marvel Comics inspired this Barbie doll all in red with the tools of her trade in hand. Includes a keychain gift for the girl."[2]
References
Ad blocker interference detected!
Wikia is a free-to-use site that makes money from advertising. We have a modified experience for viewers using ad blockers

Wikia is not accessible if you've made further modifications. Remove the custom ad blocker rule(s) and the page will load as expected.