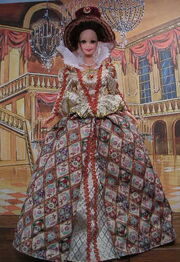 Elizabethan Queen Barbie Doll
was released in 1995.
Description
"From The Great Eras® Collection Barbie® doll achieves true royal stature in a stunning quilted dress reminiscent of the 16th century. Representing Queen Elizabeth, Barbie® doll's luxuriant red, white, and golden gown has a full skirt, fitted top with long sleeves, and lacy collar. Her dramatic hairstyle, regal hat with golden trim, and golden cross necklace add elegant touches to this already incredible costume.
SKU #: 12792"[1]
References