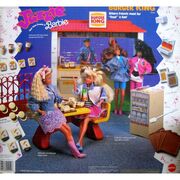 Jazzie, Teen Cousin of Barbie Doll, Burger King Playset, Cool Hangout for Barbie, Jazzie & Their Friends! is a 1989 Mattel production, made in Mexico.
Contains 34 Play Pieces including: Restaurant w/Menu Board, Counter & Trash Bin, Table & 2 Benches, Hamburger Cooking Center w/removable Fry Basket, Napkin Holder, Soda Fountain, 2 Cash Registers, Spatula, 4 Trays, 4 Glasses, 4 "Hamburger Patties" & "Buns", 4 Boxes, 4 Bags of "French Fries", Fence
Ad blocker interference detected!
Wikia is a free-to-use site that makes money from advertising. We have a modified experience for viewers using ad blockers

Wikia is not accessible if you've made further modifications. Remove the custom ad blocker rule(s) and the page will load as expected.