Ken Carson

DATES WITH BARBIE

4,368 dates with Barbie

TEXTS TO BARBIE

116,898 texts to Barbie

SURFER MOVES

36 slick surfer moves

GOOD LOOKS

52 mirrors owned

LIKES

Barbie, spending time with Barbie, thinking about spending time with Barbie

DISLIKES

Other guys spending time with Barbie, product that musses my excellently styled hair, beach sand in my joints (yowch!)

QUOTE

This gives me a chance to show off my boyfriend skills.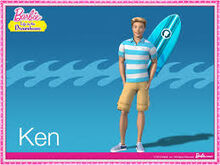 Ken Carson is a Mattel toy doll introduced on March 13th 1961 as the fictional boyfriend of toy doll Barbie introduced in 1959. Similar to his female counterpart, Ken had a fashionable line of clothing and accessories.
History
Ken Carson was first originally introduced in 1961 as Barbie's boyfriend. He had swim shorts (just like Barbie had a swimsuit), a towel, and had brown flocked/felt hair instead of his modern Blonde hair.
He has evolved over time to many looks that match that time period trends.His most recent look is a Blue and White striped shirt with beige pants. In this style he has almost exact look as his doll with place where his joints are put together,as a part of Mattel's new look for Barbie. In this look,Mattel is actually making Barbie doll like in the webisodes where the characters are really dolls and they are aware of that they have been around a long time,as seen in the webisode "The Princess Closet",where Barbie and Ken celebrate the 43rd anniversary of the first time they held hands. Also in this he is constantly trying to impress Barbie.
Biography
Ken's real name is Ken Carson. He is named after Ken Handler, Ruth Handler's son.
Other
Ken's best friend, Alan Sherwood was introduced in 1964. The first African-American male doll named Brad, was introduced in 1969, in contrast to Barbie's African-American friend, Christie, who debuted in 1968.
In Barbie: A Fashion Fairy Tale, Ken and Barbie share a long kiss, or as many argue, a 'make out'. Near the end of the movie, Ken and Barbie 'make out' for approximately 17 seconds. After receiving many complaints about the inappropriate kiss, Mattel is currently considering the possibilites of making the future Barbie movies less 'sexy'.
The unrealistic physiques of Barbie and Ken caused controversy. Yale University psychologist, Kelly Brownell, observed that to size up to what Barbie looks for in a mate, "a man would have to grow 20 inches taller and add nearly 8 inches to his neck circumference, 11 inches to his chest and 10 inches to his waist to resemble the muscular Ken."
Like Barbie, Ken is named after one of Ruth Handler's children. He lives with his Dad Dr. Karl Kennedy who looks after him who is in The next Toy Story series whom we first meet as Andy's Girlfriend new toy.
Separation
In February, 2004, Mattel announced a split for Ken and Barbie, with Russell Arons, vice president of marketing at Mattel, saying that Barbie and Ken "feel it's time to spend some quality time - apart...Like other celebrity couples, their Hollywood romance has come to an end", though Arons indicated that the duo would "remain friends". He also hinted that the separation might be partially due to Ken's reluctance to getting married.[6] In February, 2006 however, a revamped version of the Ken doll was launched, and it appeared that their relationship was official again.