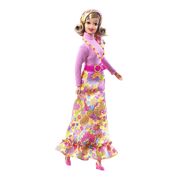 In 1967, the first Mod Barbie Dolls were released. Twist 'n Turn Barbie Dolls had long straight hair and her wardrobe had a total makeover.
Below is a detailed chronological history of the Mod Era from 1967 to 1972. Each doll has its own page with pictures and detailed information.
Pictures and details are also available for Barbie's same sized Mod Friends who shared Barbie's clothes, including: Stacey, Julia, Christie, PJ, Steffie and Kelley.
For Vintage Barbie and Midge Dolls from 1959 to 1966 see Vintage Barbie Dolls.
Ad blocker interference detected!
Wikia is a free-to-use site that makes money from advertising. We have a modified experience for viewers using ad blockers

Wikia is not accessible if you've made further modifications. Remove the custom ad blocker rule(s) and the page will load as expected.