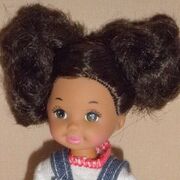 Nia is a friend of Kelly. She was introduced in 1998 and was discontinued in 2003.
List of Dolls
Year
Product code
Product name
1998
Asst. 17324
20860
Playtime Nia Doll
1999
Asst. 17324
24605
Baker Nia Doll
2000
Asst. 16058
29201
Amusement Park Nia Doll
2001
52756
Miss Nia Doll
2002
Asst. 17324
56792
Tea Party Nia Doll
2003
Asst. 55908
B1345
Holiday Snow Sparkle Nia Doll
2003
Asst. C3695
C1270
Happy Birthday Tea Party Nia Doll
Gallery
Ad blocker interference detected!
Wikia is a free-to-use site that makes money from advertising. We have a modified experience for viewers using ad blockers

Wikia is not accessible if you've made further modifications. Remove the custom ad blocker rule(s) and the page will load as expected.