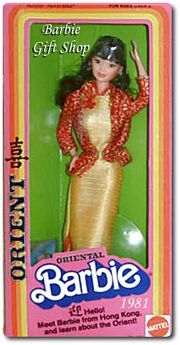 Oriental Barbie doll is dainty and elegant in this beautiful costume reflecting the influence of the Orient. Her long, slender yellow dress is trimmed in red, and complemented by a red and golden-flowered jacket. Her lustrous black hair falls gently over her shoulders, and is pulled back to display her lovely face.The 1981 beauty, with the same smile on her face, the new barbie oriental is ready!
Ad blocker interference detected!
Wikia is a free-to-use site that makes money from advertising. We have a modified experience for viewers using ad blockers

Wikia is not accessible if you've made further modifications. Remove the custom ad blocker rule(s) and the page will load as expected.