Raquelle is Barbie's ex-best friend and Ryan's twin sister. She was first seen in The Barbie Diaries with luscious orange/blonde/pink toned hair. Later on Raquelle was known for her icy blue contact lenses, eye lid tape,lip injections,and raven black hair. In 2013 Raquelle took off the eye lid tape and removed her contacts for her first studio album self entitled Raquelle.Later on in 2013 Raquelle made headlines by crashing Global SuperStar Kira Wangs iconic "Queen Of The World Tour". Numerous threats were made by the Asian glamour puss diva via her official facebook including bomb threats, vulgar posts about Mattel Media's main publicist Oprah and her various superstar clients. Due to the bomb threats Kira Wang had to clear the building,this inspired raquelle to make an offical DVD titled "Shanoniquinz wit fullaz" which includes footage of Raquelle and Personal Terrorist Fulla planting bombs around the stage. Also included is her full 10 minute concert titled "The r+r's tour". The tour had guest appearances by Lovely Patsi and Defa Lucy. The tour only had one stop.Later on in 2013 Raquelle reached out to her then enemy via her facebook begging the flaw free global super stars forgiveness.Ever since that post both the Asian divas have been close friends and have gone on tour together. Raquelle is featured on one of the tracks off of Kira Wangs album "In Control."Raquelle is also featured on the track Ms Pacman from Teen Queen Star Jazzie's second album "For a New Year".
The lead single "Glitter Sticker" from Raquelle's second studio album "Queen Of T
he Night" is one of the best selling singles of all time. Raquelle's second album "Queen Of The Night" was released September 29th 2013 with mostly positive reviews from critics.The albums second single "Kidnap The DJ" was successful but sadly didn't receive the same amount of attention as "Glitter Sticker" due to poor promotion of the single.
Through April and July 2014 Raquelle went on tour with Kira Wang on "The Asian Ambition Tour". The tour was a major success and almost every show sold out 10 seconds after tickets were available for purchase.
Through March 2014 and May 2014 Raquelle had a nasty public feud with Amber Beotch and Jazzie posting photoshopped images of the pop princess ordering McDonalds with Amber Beotch and Jazzie edited in behind the counter in McDonalds uniforms. Raquelle posted to her Official Facebook page saying "Despite personal issues i've had with Jazzie i truly do wish her succes n hap-penis in her career n am xcited 4 her 3rd album hard rauqz!",it is assumed that the pop divas are all civil but there has been no quotes from Amber Beotch or Jazzie on the situation.
On March 15th 2014 Raquelle released the Deluxe edition of her second studio album "Queen Of The Night". "Queen Of The Night DELUXE" is one of Raquelles worst selling releases despite the heavy promotion via her official Facebook page.
On May 21st 2014 Raquelle released "Naughty 101 + Raise It Up" as a double sided single. It performed poorly on the charts and is one of Raquelle's worst selling singles.
On August 1st 2014 Raquelle released
"So Glamorous"
,the lead single from her upcoming third studio album "#GLAM". Raquelle has been in the studio recording her third album since early November 2013.No official release dates have been announced at this time.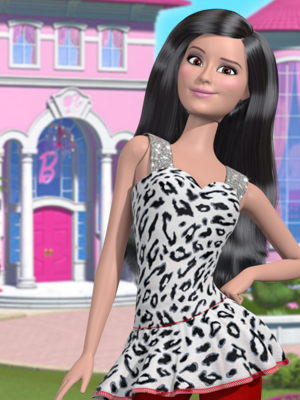 she appears in "Barbie life in the dream house"😌.