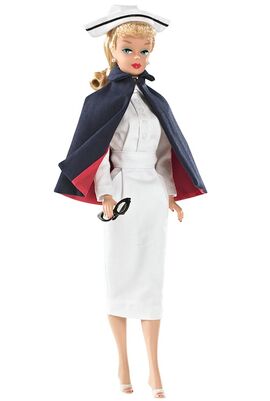 Registered Nurse
is a fashion that was released in 1961.
Description
"Her diploma declared Barbie® doll as a Nursing School graduate! Her slim white uniform with back zipper had an attached round gold metal nursing pin. Detailing was meticulous with a bodice placket with four buttons and a fitted waistband. A red lined, short navy nurse's cape buttoned at the collar. A black trimmed white cap topped her head and her nurse's shoes were white open-toe heels. A rubber hot water bottle, flat orange plastic bottle that read "Medicine, " and a metal spoon were all she needed to cure her waiting patients!
All images and descriptions courtesy of Collector Books, publisher of "Barbie Fashion: Volume 1" and "Barbie Fashion: Volume 2" by Sarah Sink Eames
SKU #: 991"[1]
References