Summer Gordon is the sister of Blaine and a good friend of Barbie. She apparently is a tennis player according to a Barbie annual. She was first introduced in the 2004 Cali Girl line. Since then she was Barbie's 3rd most featured companion untill 2008, when she was changed for Raquelle. She uses one of the most used Barbie head molds today called The Summer mold, marked 2003. Summer has had many looks during the years. She has had a lot of drastic changes. If you look at the first Summer compared to the Fashionistas Summer they look completely different.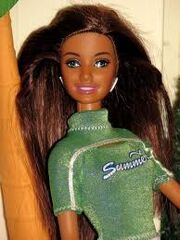 The first Summer had brown hair, green eyes and  tan skin. She only looked like this in the Cali Girl line, between 2004 and 2005. Later lines, starting by 2006, featured her with blonde hair and lighter skin. 

The 2007 Top Model line introduced a Summer doll with the Steffie face mold and pale skin. She had strawberry blonde hair. In 2011 after a 2 year absence she was featured as Delancey, a character in Barbie: Princess charm school. She was fair skinned, had brown eyes and Strawberry Blonde hair. She used the 2005 Barbie mold. Summer was also shown as a light Redhead in 'Barbie and the three musketeers ' Where she plays Aramina.  In late 2011 she was featured in the clutch Fashionistas 2012 first wave and had blonde hair with brown lowlights, and also the same mold as Delancey, brown eyes and fair skin. She kept the same look untill the second wave of the
clutch fashionistas until her mold was changed for a brand new mold, marked 2011. She is still present as of the rainbow fashionistas.
It has been confirmed that Summer will appear in
Season 4 of Barbie: Life in the Dreamhouse along with Raquelle, Nikki, Teresa, Midge Ryan and Ken. She will have a doll based on this version of her chararcter. According to Life in the dreamhouse she is an ex model.

Summer was also included in the second wave of the Clutch Fashionistas. She is featured as a Sporty Girl, since her outfit has a 5 on it, as well as a necklace accessorizing her with the words "Sporty." Summer's hair isn't much different than Wave one, with highlightss added. Summer's make up and over all outfit is metallic.
                                                                                                                                      Barbie Clutch Fashionistas Wave 2 Summer
Summer's roles in Barbie movies:
  .Marie (Barbie swan lake)
 .Brietta (Barbie magic of pegasus)
 . Fallon (Barbie 12 dancing princess)
  .Luciana (Barbie island princess)
  .Melody (Barbie diamond castle)
  .Aramina (Barbie and the three musketeers)
  .Chrysella (Barbie Thunmbelina)
  .Delancy (Barbie princess charm school)
   .Giselle (Barbie pink shoes)
  .Cora (Barbie pearl princess)
  .Romy (Barbie secret door)
 . Rayna (Barbie rock n royals)

Ad blocker interference detected!
Wikia is a free-to-use site that makes money from advertising. We have a modified experience for viewers using ad blockers

Wikia is not accessible if you've made further modifications. Remove the custom ad blocker rule(s) and the page will load as expected.