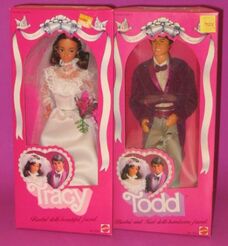 In 1983 Todd was created. Not to be confused with the Todd Roberts, the twin brother of Stacie in the Todd and Tutti and the new Todd series.
He and Tracy were getting married. Barbie and Ken were guests to their wedding. Not much else is known about Todd. He also uses the 1977 super star head mold.
People also say Tracy and Todd were created as prototypes for the heart family mom and dad characters (the Happy Family line, with Midge and Allan).