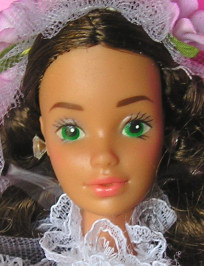 This green eyed brunette beauty made a short appearance in the World of Barbie. In the year of 1983 Tracy and Todd (Tracy's boyfriend) invited Barbie and Ken to their big day. The before unknown couple Tracy and Todd were to be married! They must have gone lost on their honeymoon since they were never heard from again. She used the "Steffie" headmold.
Ad blocker interference detected!
Wikia is a free-to-use site that makes money from advertising. We have a modified experience for viewers using ad blockers

Wikia is not accessible if you've made further modifications. Remove the custom ad blocker rule(s) and the page will load as expected.